PP-9667
All of the components can be accessed and removed without complicated procedures. The design is incredibly easy to understand with makes service and upgrades very efficient.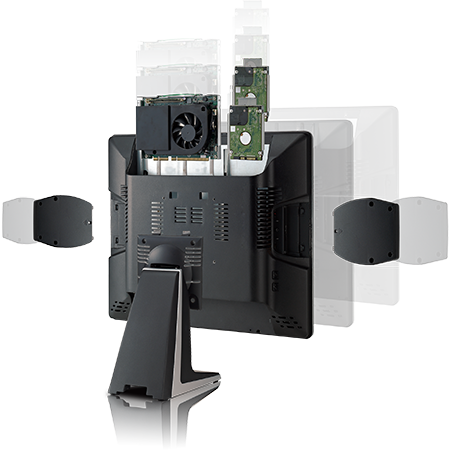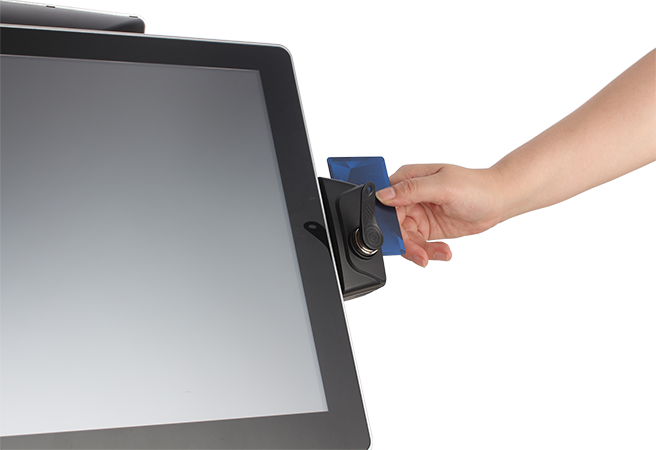 We offer MSR, iButton, fingerprint, RFID readers. We also offer 2in 1 add-on devices with the MSR reader combined with iButton, figerprint or RFID reader.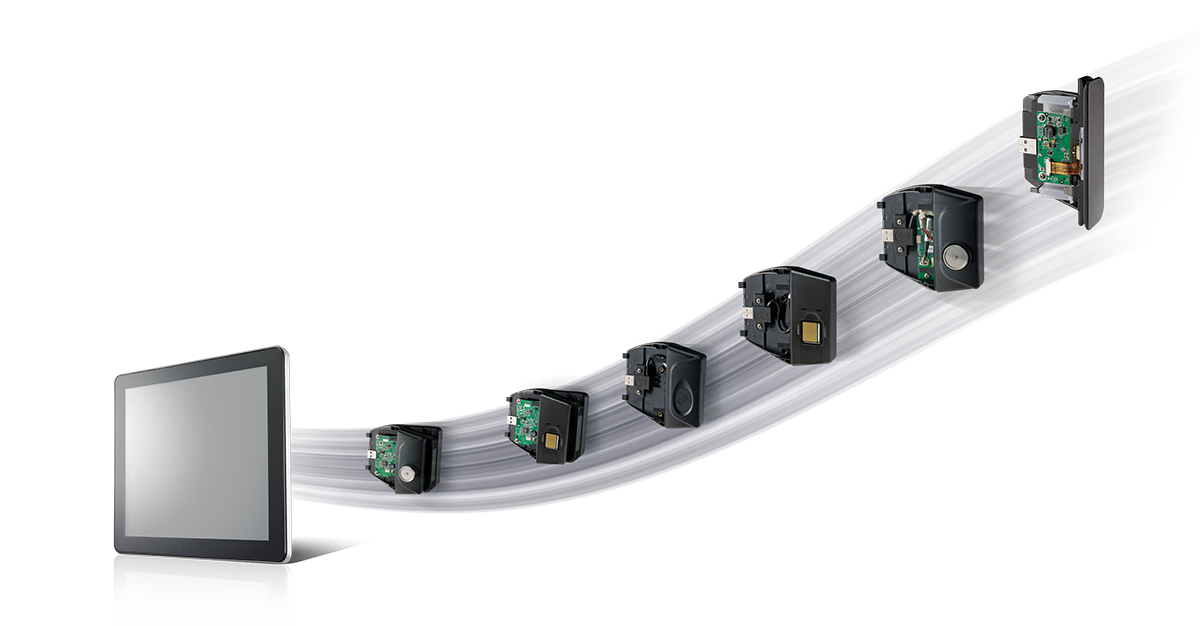 04
Integrated Customer Display
The fully integrated customer display was designed to blend in seamlessly with AerPPC. Designed with a ball joint, the display can be easily maneuvered to face many angles.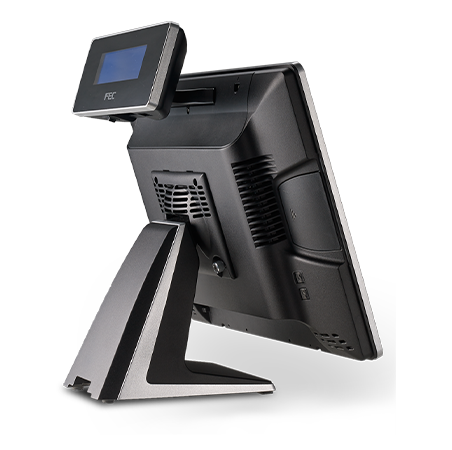 Specifications
CPU
Intel® Celeron® G3900TE, 2.3Ghz
Intel® Core i3-7101TE, 3.4Ghz
Intel® Core i5-7500T, 2.7Ghz
Intel® Core i7-7700T, 2.9Ghz
Memory
4GB Standard, Max 32GB (2 x So-DIMM DDR4)
Storage
1 x 2.5" SATA HDD or SSD
1 x M.2 Storage (Optional)
Power
12V / 150W External Adapter
Appearance
Aluminum Die-casting + Plastic
Black with Silver Trim
Temperature
Operation: 0˚C ~ 40˚C (32˚F ~ 104˚F)
Storage: -20˚C ~ 60˚C (-4˚F ~ 130˚F)
Dimensions (W x H x D)
Product: 410 x 364 x 250 mm
Carton: 548 x 540 x 360 mm
Weight
Net: 7.5 Kg
Gross: 10.8 Kg
Port
2 x DB9 (COM1 & COM2), 1 x RJ45 (COM4)
4 x USB 2.0 Type A
1 x RJ11 Cash Drawer (12V)
1 x Bi-directional Parallel Port
1 x PS/2 Keyboard / Mouse
1 x RJ45 GigaLAN
1 x Line Out
1 x VGA (5V/12V jumper setting)
1 x 12V DC Input
1 x 12V DC Jack 2.5 mm Output


Side I/O Interface:
1 x USB 2.0 Type A
Optional
Type A: 2 x RJ45 (COM A & COM B) RS232 with RI / 5V / 12V Selectable; 1 x 24V DC Output; 1 x Mic-in
Type B: 2 x RJ45 (COM A & COM B) RS232 with RI / 5V / 12V Selectable; 1 x 24V PUSB; 1 x Mic-in
Type C: 2 x RJ45 (COM A & COM B) RS232 with RI / 5V / 12V Selectable; 1 x PUSB 12V; 1 x Mic-in
Type E: 2 x Cash Drawer 24V ; 1 x Mic-in
Type G: 3 x PUSB 12V
Type H: 2 x PUSB 12V, 1 x PUSB 24V
Type L: 1 x RJ45 (10/100) LAN, 2 x USB 2.0