PP-8643
FEC give you a high performance panel pc with ultra slim profile.
PP-8643 is made of alloy aluminum die-casting with unique cooling design and perfect thermal management.
Sleek and silk-line surface enhance this smart business helper a modern and stylish attractiveness.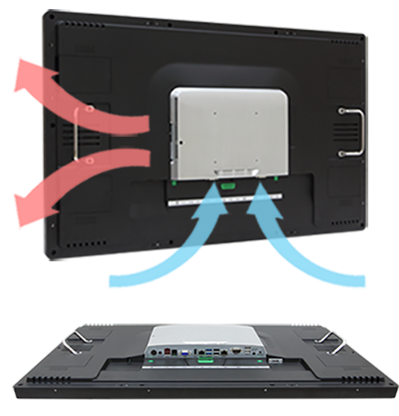 02
Innovative Modular Design
PP-8643 is an advanced 32" modular All-in-One panel pc. Panel, CPU, HDD are all simply swappable without complicated procedures.
The design is incredibly easy to understand with, it makes installation service and upgrade very efficient and flexible.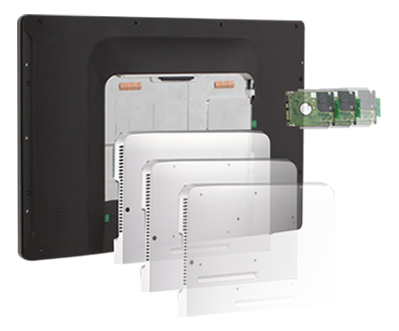 This FEC' s revolutionary design draws all the attentions! Only 2 steps are needed to start maintaining, changing, assembling. and upgrading. Things are just easy and smooth!

FEC offer 5 types of additional I/O options on the modular main I/O board. With optional 2nd I/O, it creates extra flexibility when purchasing and allows users to fully apply PP-8643 to multiple requirements.

05
Maximize Your Solutions
With simple procedures, PP-8643 can be transformed to an information KIOSK or a wall mounted HD digital signage.
You will be amazed by PP-8643's flexibility and various applications!
With 32 inches mega monitor, all the contents are not just bigger but more alive & more pleasing to watch!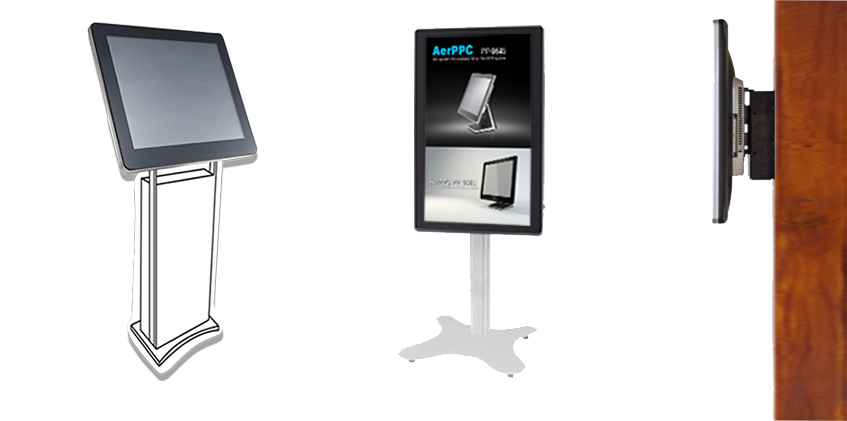 4th Generation Intel® Core TM i3 and i5 Processors
Intel® H81 Chipset (Intel® DH82H81 PCH

Specifications
CPU
Intel® Celeron G1820TE 2.20GHz
Intel® Core i3-4330TE 2.40 GHz
Intel® Core i5-4590T 3.0 GHz
Memory
4GB Standard, Max: 16GB (2 x So-DIMM DDR3L)
Storage
1 x 2.5" SATA HDD or SSD
1 x M.2 Storage (Optional)
Power
12V / 150W External Adapter
Appearance
Aluminum Die-casting + Plastic
Black
Temperature
Operation: 0˚C ~ 40˚C (32˚F ~ 104˚F)
Storage: -20˚C ~ 60˚C (-4˚F ~ 130˚F)
Dimensions (W x H x D)
Product: 774 x 469 x 76 mm
Carton: 915 x 637 x 215 mm
Weight
Net: 16.8 Kg
Gross: 18.6 Kg
Port
1 x RJ45 (COM1) RS232 with RI/5V/12V Selectable
4 x USB Type A (2 x USB 2.0, 2 x USB 3.0)
1 x PUSB 24V
1 x RJ11 Cash Drawer (12V / 24V)
1 x RJ45 GigaLAN
2 x Video Port
1 x 12V DC Input
1 x 12V DC Jack 2.5 mm Output


Side I/O Interface:
1 x USB 2.0 Type A
Optional
Type C: 2 x RJ45 (COM 2 & COM 3) RS232 wtih RI / 5V / 12V Selectable; 1 x PUSB 12V
Type G: 3 x PUSB 12V
Type G: 1 x DB9 (COM 2) with RI / 5V / 12V Selectable; 2 x USB 2.0; 1 x Phone Jack; 1 x Power Jack 2.5mm
Type K: 1 x DB9 (COM 2) with RI / 5V / 12V Selectable; 2 x PUSB 12V
Solutions