PP-8632
AerPPC PP-8632 is an ultra slim modular All-in-One panel PC. It' s fanless design offer you a silent and dust free operating environment.
Platform: Intel® Bay Trail
Processor: Intel® Celeron J1900
System Memory: DDR3L Standard 4G ; Max 8G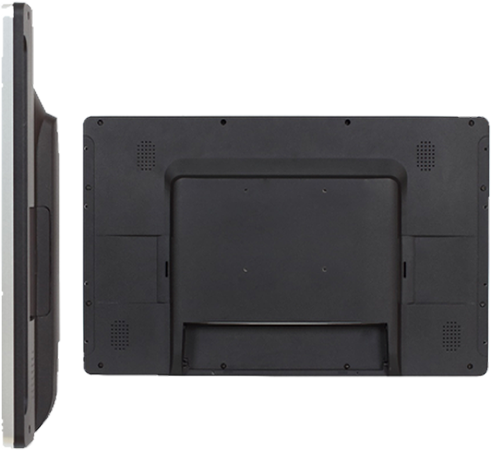 FEC offer 4 types of additional I/O options on the nodular main I/O board.With optional 2nd I/O, it creates extra flexibility when purchasing and allows users to fully apply PP-8632 to multiple requirements.

Type A

Type B

Type C

03
Digital Information Signage
No matter using AerPPC or AerMonitor, FEC 22 inch series are beautiful displays with high resolution screens. With universal VESA wall mount design, they can be easily mounted on any flat surface!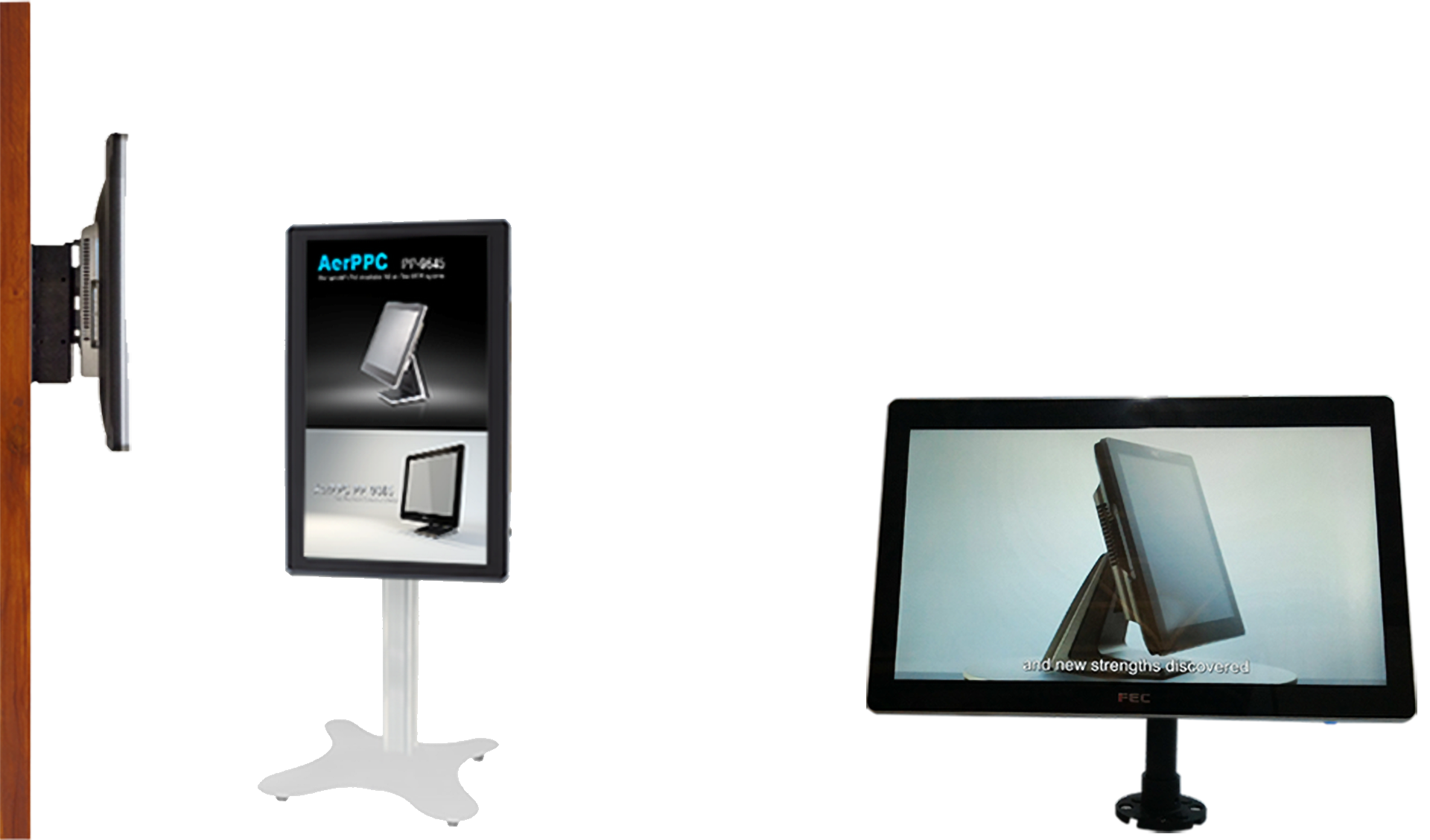 04
Dual Screens, Double Benefit
With FEC unique dual pole, the main panel pc can integrate with a 2nd touch screen when using as a POS system to interact with customers.
All the transaction details & campaign videos / photos can be shown on the screen at the same time!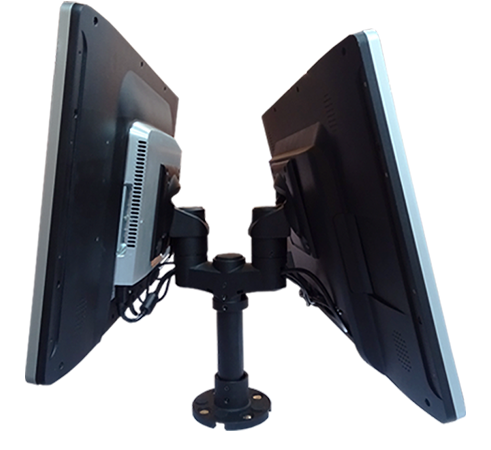 Specifications
CPU
Intel® Celeron J1900 2M Cache, up to 2.42 GHz
Memory
4GB Standard, Max 8GB (1 x So-DIMM DDR3L)
Power
12V / 150W External Adapter
OS
POSReady 7
POSReady 2009
Windows 10 Pro
Windows 10 IoT Enterprise
Appearance
Aluminum Die-Casting + Plastic
Black with Silver Trim
Temperature
Operation: 0˚C ~ 40˚C (32˚F ~ 104˚F)
Storage: -20˚C ~ 60˚C (-4˚F ~ 130˚F)
Dimensions (W x H x D)
Product: 530 x 338 x 49 mm
Carton: 652 x 463 x 212 mm
Port
1 x RJ45 (COM1) RS232
2 x DB9 (COM2, COM3) RS232
4 x USB Type A (3 x USB 2.0, 1 x USB 3.0)
1 x PUSB 24V
1 x RJ11 (12V / 24V) Supports Two Cash Drawers
1 x RJ45 GigaLAN
1 x VGA
1 x Video


Side I/O Interface:
1 x USB 2.0 Type A
Internal Expansion:
1 x Mini PCIe
Optional
Type A: 2 x RJ45 (COM A, COM B) RS232, 1 x DC-Out 24V, 1 x Mic-in
Type B: 2 x RJ45 (COM A, COM B) RS232, 1 x PUSB 24V, 1 x Mic-in (Limited Current When Using PUSB 24V)
Type C: 2 x RJ45 (COM A, COM B) RS232, 1 x PUSB 12V, 1 x Mic-in
Type E: 2 x RJ11 (12V), 1 x Mic-in
Type G: 3 x PUSB 12V
Type H: 1 x PUSB 24V, 2 x 12V (Limited Current When Using PUSB 24V)
Solutions