[FEC Product] 2016 FEC Product Review
2017-01-04
2016, A Year of Full Dimension Solutions
Year 2016 is definitely a fruitful year for FEC and all partners as there were 10 products launched during the whole year. FEC always focus on new industry trend and commit to provide best products to assist our partners. That's how every 2 months for new product launched in 2016 as things are changing and we need better solutions to always be on top.

Here is the summary of all new products and categorized in 4 sections: Large Size Series, Intel® H81 Series, AerLite Series, Android Series.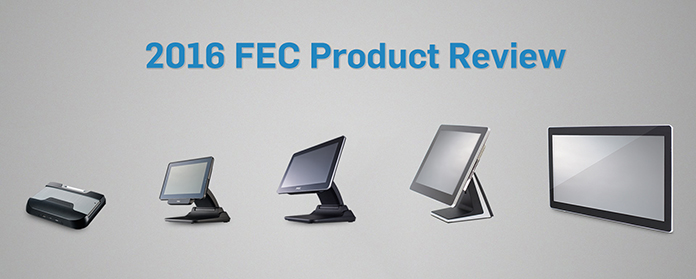 Bigger is Better – Large Size Series
As visual image is getting more and more important nowadays, one of the best ways to give better impression and customer experience is to go big! Large size series include All-in-One panel PC and touch monitor from 22inch to 32inch. The advantages of large size is not only things are shown bigger, but also more applications for users and customers.

Interactive digital signage enable to display marketing campaign bigger and clearer to catch more attention. With touch monitor, people can directly give feedback, place order, or more involved action by interactive ways. Fashion store can also offer simulation environment for shoppers. Just think what you can do things big, FEC Large Size Series will help you get there.

Incredible FEC Modular Design – Intel® H81 Series
Using only one CPU module to transform into Panel PC or POS BOX in different size, this ideal and most efficient idea can only be accomplished by FEC Intel® H81 Series. To change CPU module from one unit to another take only three simple steps: Detach from original unit; Install to another unit; system setting.

The benefit of only one CPU module are many! Installation, maintenance, upgrade, and technical training are much easier and faster for technical engineers. Stock and factory system are also more efficient for managing, checking, and space saving. FEC signature modular design is fully utilized on FEC high performance Intel® H81 Series.

Future Mobility in Hand – AerLite Series
Mobility is the future. In the time of mobile device, FEC make personal tablet to business mobile system. AerTab, a revolution of commercial tablet with cradle and station, is a powerful system with all expandable applications. Combining with All-in-One Panel PC using same platform, AerLite series meet all requirement of possible solutions.

AerLite Series is perfect for retail & hospitality industry. With creativity and comprehensive planning, there is no limitation for your solutions!

Personalize Flexibility– Android Series
Android OS, with its open source structure, provides developers the freedom to build a versatile software package. Coupled with FEC's legendary hardware design, businesses will have the ability to adapt and grow as their demand increases. That is why FEC has been developing Android POS series.

Android platform being the most adaptive and preferred by customers. With desktop and digital signage version of Android POS, the complete lineup enable users to create solutions freely.

2017, A Year of Business Expansion
Technology is improving every day, environment may not always be the same. To always have successful business with powerful systems, FEC offer you the complete lineup to meet all requirement of each unique project. 2017 is absolutely the year to boost your business!
Let us know if which FEC products you want to have sample or contact your resposible sales representetive:
sales-mktg@firich.com.tw