[FEC this month 2016.12] FEC AerLite Series Intro & Video / Expand Café Business in Korea
2016-12-22
AerLite Series
AerTab AT-1450 | AerPPC Lite PP-1453 | AerPPC Lite PP-1455
FEC proudly introduce brand new AerLite Series including AerTab AT-1450, AerPPC Lite PP-1453, and PP-1455. AT-1450 is FEC first compact smart tablet to strengthen your business with mobility. PP-1453 (13inch) and PP-1455 (15 inch) are ideal for main counter applications. Sharing same platform and design, AerLite series is simply your best choice!
Features & Spec of AerLite Series

AerLite Series Video
FEC AerLite Series is perfect for retail & hospitality industry. Check the video and learn how to elevate your business with all important information of applications and specs!
Watch AerLite Series Promotion Video Now

FEC @ Microsoft Seminar
As a Microsoft Official Windows Embedded Partner, FEC was invited to exhibit FEC POS solutions at Microsoft Seminar on November 10, 2016 in Taipei.
FEC @ Microsoft IoT Seminar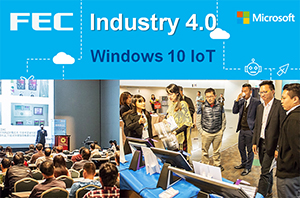 Next Month: NRF Retail's BIG Show 2017 (#1227)
NRF Retail's BIG Show 2017 is the industry's flagship event and the most important show to begin year 2017. To elevate your retail business, visit FEC USA booth #1227!
FEC @ NRF 2017 (#1227)

FEC Success in Korea: Expand Café Business
FEC expand the market to café in Korea by installing AerPPC PP-9635 & AerPOS AP-3615 into top café shops such as Innisfree Green Café, TOUS les JOURS, A TWOSOME PLACE.
Cafés with FEC POS in Korea