[ FEC GPC ] FEC Global Partner Conference 2016 in Koh Samui
2016-11-21
It's our time to "Tab the Future, Let it Shine"!
Biennial FEC Global Partner Conference 2016 was held in Koh Samui, Thailand October 23 – 27 2016. FEC team welcomed more than 120 guests to participate FEC's biggest event in 2 years to this beautiful heavenly island!

On October 24, a full day conference was hosted by FEC International Sales Department, PM Department, and Marketing Department. FEC chairman Mr. Bill Hsu delivered an opening speech to welcome and thanks to all partners to join the important reunion and great effort on making FEC global network better & stronger. And announce FEC will continue to do excellent job and be innovative no matter how competitive this market is! Our professionalism & confidence will lead this industry to new level as what we always do!

The Biggest FEC GPC ever!
FEC only grow bigger and stronger with all our worldwide business partners together. In FEC GPC 2016, there are 45 partners from 25 countries of 5 continents. Despite the world is changing and the industry is moving fast, this record high number is best proves of FEC's growing and expanding globally & continuously!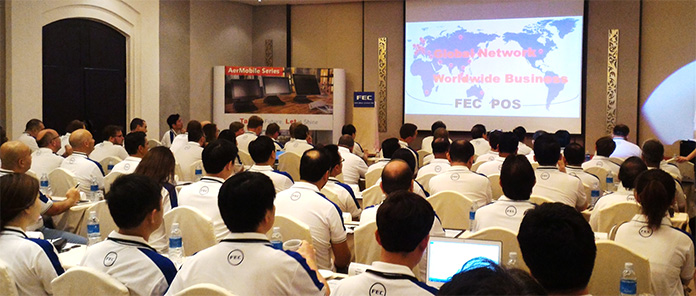 Tab the Future : Think Outside of the Box
The first presentation "Tab the Future" was delivered by International Sales Director Ms. Joyce Liu. She pointed out FEC's strategies & plans for the past few years and how they changed the POS industry. By introducing global success cases in hospitality, retails, and KIOSKS, attendees will learn how FEC partners come up with various solutions applicable to different scenarios. And it also proved FEC's strategies are successful.

But the most important thing is, we shouldn't set any boundary. All of FEC partners are professionals and unlimited, using FEC products to new industry or more vary solutions is the key to the future. Think outside of the box!

Let it Shine : New Generation of POS, New Era of FEC
The second theme by FEC was presented by PM Mr. Vince Peng, Ms. Sabrina and Mr. Edwin Wang. "Let it Shine" means "Let your business shine". How will FEC shine your business? It all begins with the recent business trend – Internet of Things & Cloud Computing, Cross OS Platform, Various Connectivity, Omni-channel Business, Online Shop Rising, Payment Movement.

As a leading Point of Sale and Industrial Computer provider, FEC need to think and move ahead. So the AerLite Series has officially introduce in public for the first time in order to catch up and lead the industry! Large size POS & monitors in 22 and 32 inches are also presented for partner's ideal solutions. For full ranges of flexible and up-to-date options, new peripherals (multiple readers, barcode scanner, OS, Storage, PSU are also available now or near future!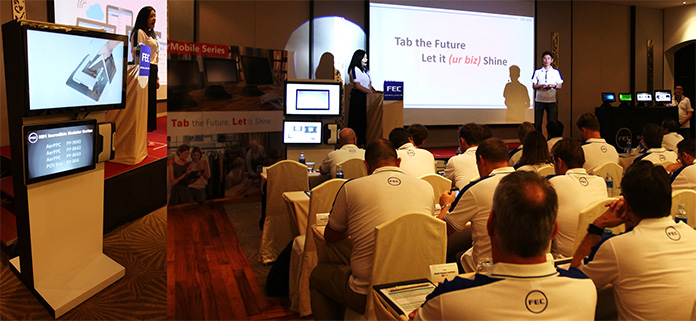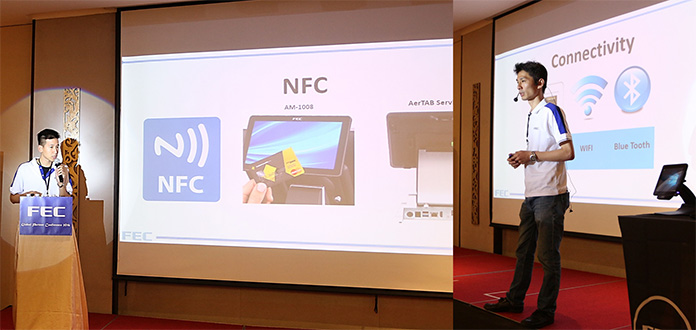 AerLite Series: AerTab AT-1450 | AerPPC Lite PP-1453 | AerPPC Lite PP-1453
Video broadcasting sometimes is better than verbal introduction and it's definitely the truth of AerLite series (renamed from AerMobile series)! Before the end of all FEC presentations, FEC Marketing Department prepared world premiere AerLite Series Promotional Video to demonstrate all the innovative functions, creative applications, and affirmative specifications. The final finished video will be released in the beginning of December, 2016.

FEC Worldwide Success – Hospitality, Retails, New Market !
This year, FEC invited 7 global partners to present their best project within year 2015 – 2016 to share success and get recognitation. The cases are from Africa, Asia & Europe. What surprised all attendees are the variaty of the applications. FEC products can be used in cinema, supermarkets, departments, national retail shops, gas stations, world famous coffee shops and even factories! With all the hardworks and brainstorming of each partner, FEC POS can make all the posibilities!

FEC POS & Payment Solutions
Guest presentation of FEC GPC 2016, we are honored to have one of our Best Sales Performance honorees and also a well-known POS provider in the United States to give "Custom hardware in the payment industry". The most challenging and fascinating part is how free terminal program can make profit & business expansion for them. Using only FEC products and combining their custom made software are the key to their success and also all FEC partners can learn as a great reference!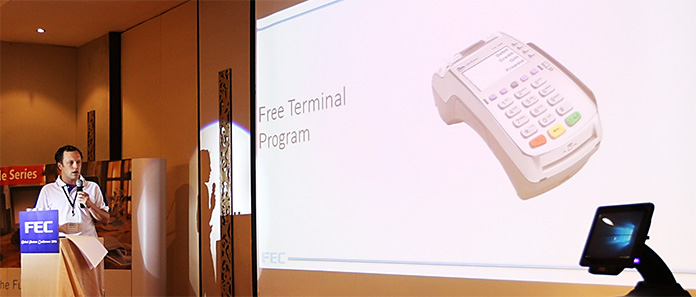 With You All, We Make FEC !
FEC Global Partner Conference 2016 in Koh Samui, Thailand is definitely one of the most successful ones for FEC. In fact, not just about the conference, the whole 5 day event was a big success as well as FEC successful business and products. We received positive feedback from all attendees. What FEC would like to thanks to our global partners is "Without your greatest support, FEC couldn't go this far; With you all, We make FEC!"

(FEC GPC 2016 Presentation available for our business partners. Want to review it again? Contact your sales representatives now!)